Wednesday: Keynote
America's Stake in Our Libraries as the New "Third Place"
Lewis M. Feldstein, former president and CEO, New Hampshire Charitable Foundation
We have become better at distancing ourselves from others, from the increasingly homogenous communities in which we live to the narrowly focused media from which we get our news. Fortunately, libraries all across the country are developing into the new community commons, learning to overcome these differences and bring us together with people unlike ourselves. Join Lew in this exciting talk about libraries as the new "third place."
Feldstein has written and lectured widely on social capital and community building. With Robert Putnam of Harvard University, he co-founded the Saguaro Seminar: Civic Engagement in American and co-authored Better Together: Restoring the American Community (Simon & Schuster, 2003). Feldsetein has worked with the civil rights movement in Mississippi, was a senior staff member for former New York City mayor John V. Lindsay, and was formerly provost of the Antioch/New England Graduate School. He lives in Hancock, New Hampshire.

Wednesday: YSS Luncheon
Joyce Sidman
The YSS Author's Luncheon gives you a glimpse into the creative processes of an acclaimed author. This year's author has created many award-winning children's poetry books, including the 2011 Newbery Honor-winning Dark Emperor and Other Poems of the Night. She teaches poetry writing and participates in many national poetry events. Her recent book, Swirl by Swirl: Spirals in Nature, is a Junior Library Guild Selection.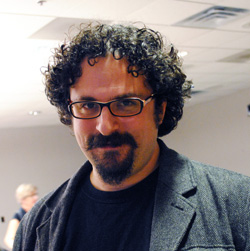 Thursday: Luncheon
Eli Neiburger, Associate Director, IT and Production, Ann Arbor District Library (AADL)
When Library Journal interviewed Neiburger for its 2011 Movers & Shakers Awards, he said of gaming in the library, "Making the library a place where these kinds of experiences happen, where expectations of what a library is are shattered and rebuilt is what really gets me excited."
Join Neiburger as he shares more about what gets him excited - and worried - about libraries today, and come away with new perspectives about how your library can connect with your community.
Nieburger joined the staff of the Ann Arbor District Library as a helpdesk technician in 1997, and has been reponsible for AADL's technology program since 2000. In his current role as Associate Director for IT & Production, Eli is responsible for technology planning, software development, digitization, events and marketing. He's the author of GAMERS... in the LIBRARY?!, published in 2007 by ALA Editions, and has spoken across the US, Europe and Australia about gaming, libraries, publishing and the Web. He serves on the board of Bricks for Brains (a small LEGO Education nonprofit), Library Renewal (working to develop econtent solutions that work for libraries) and is the chairman of the Jhai Foundation, working to bring Internet-powered telemedicine and economic development to rural communities in the developing world.

Friday: President's Luncheon:
Peter Yarrow from the legendary vocal trio of Peter, Paul, and Mary will speak and perform. As a member of the trio, Yarrow has earned multiple gold and platinum albums and numerous GRAMMY awards. He uses music to convey a message of humanity and caring. As one of America's greatest folk singers, his music has had a profound effect on several generations of musicians, as well as the nation as a whole.
Peter Yarrow's performance is made possible through a generous gift from WLA President Ron McCabe.
Jerry Apps, born and raised on a Wisconsin farm, has been a rural historian and award-winning environmental writer for more than 40 years. He has published over 30 books, many of them on rural history and country life, including "Every Farm Tells a Story," "Living a Country Year," "Horse-drawn Days," "Barns of Wisconsin," "Old Farm" and his most recent publication, " Garden Wisdom: Lessons Learned from 60 Years of Gardening."
Tina Baich is an Assistant Librarian at Indiana University-Purdue University, Indianapolis University Library. In addition to supervising the Interlibrary Services department, she serves on the Bibliographic and Metadata Services and Liberal Arts Teams. Tina is especially interested in web-based interlibrary loan finding aids and the impact of open access on interlibrary loan and has presented on these topics at state, regional and international conferences.
Robert A. Birmingham served as Wisconsin State Archaeologist between 1989 and 2004 and is the author of many articles and publications in Wisconsin archaeology and history. He now teaches anthropology at UW- Waukesha and writes from his home in Madison, Wisconsin. He is the co-author of the award winning books "Indian Mounds of Wisconsin" (UW-Press), and "Aztalan: Mysteries of An Ancient Indian Town" (Wisconsin Historical Society Press). His most recent book is " Spirits of Earth: The Effigy Mound Landscape of Madison and the Four Lakes." Mr. Birmingham is the recipient of the Increase Lapham Research Medal from the Wisconsin Archeological Society and the 2007 State Park Hero award from the Friends of Wisconsin Parks for his promotional and educational work at Aztalan State Park.
Kim Cable is the Housing and Community Services Director for Couleecap, an organization uniting the diverse voices of the Coulee Region of western Wisconsin, including low income individuals, elected officials and representatives from grassroots community organizations in fighting poverty in the region. Each year, Couleecap helps more than 17,000 families achieve self-sufficiency.
Jim Draeger is an architectural historian and Deputy State Historic Preservation Officer at the Wisconsin Historical Society with more than 25 years of experience. From roadside architecture to Northwoods resorts, Draeger celebrates the importance of ordinary buildings to our daily lives through his research, writing and lectures.
Mark Ehlert began his association with Minitex Contract Cataloging in September 2007. Prior to his present service as ConCats cataloger, he worked in a paraprofessional capacity at the University of Minnesota's Wilson Library (2004-2007) cataloging special collections materials and gift books. Earlier, he spent ten years (1994-2004) as part of the staff of Alcuin Library, which is located on the campus of St. John's University in Collegeville, Minnesota.
Jimmy Gillman is a columnist for the La Crosse Tribune. As a writer and author he's responsible for Jimmy Gillman's Past Picks Online( www.jimmygillmansreviews.com) and The Jewish Film Guide.
Warren Graham, aka the Black Belt Librarian, has been a security professional for more than 25 years, including 17 years as the security manager of the Public Library of Charlotte and Mecklenburg County, North Carolina. Graham left the library in 2006 to establish Warren Davis Graham Training and Consulting, specializing in realistic security procedure training for employees, handling difficult customers, self-defense tactics for front line staff and customized training for specific needs.
Betsy Hearne is former Director of The Center for Children's Books and a professor emeriti in the Graduate School of Library and Information Science at the University of Illinois at Urbana-Champaign, where she taught children's literature and storytelling for many years. She is the author of numerous articles and books, including "Choosing Books for Children: A Commonsence Guide," and the folktale anthology, "Beauties and Beasts." The former children's book editor of Booklist and of The Bulletin of the Center for Children's Books, she has reviewed books for almost forty years and contributes regularly to The Horn Book Magazine.
Jean Kalscheur is a vision rehabilitation teacher with the Wisconsin Council of the Blind & Visually Impaired, working with adults with visual impairments for the past 4 years. She has over 25 years experience in occupational therapy education and practice. While at WCB&VI, Jean has developed Everyone Sees Differently, a program for elementary aged students to learn how persons who are blind or visually impaired engage in everyday activities, and Keeping Seniors Connected, a computer class for older adults to learn to make a computer more accessible.
Dr. Richard Kyte is the Director of D.B. Reinhart Institute for Ethics in Leadership and Professor of Philosophy at Viterbo University in La Crosse, Wisconsin where he teaches a variety of ethics courses dealing with issues in business, health care, law, politics, the environment, art and religion. He has published and lectured widely on topics related to justice, forgiveness, virtue and the meaning of life.
Traci Lesniski is a principal in the nationally recognized library design firm MS&R. Traci believes in designing for the individual, valuing our inherent need for variety, privacy and dignity. Designing spaces that can positively impact a person's life motivates and inspires her—whether for a public library, an arts building, a university community center or a workspace. Her focus is on enhancing personal comfort, productivity and delight.
Collette Mak is the Resources Access and Delivery manager at the Hesburgh Library, University of Notre Dame, Indiana. Her experience includes library, library automation, product management and library networks. She believes in data informed, as opposed to data based, decision making. Her specialties include work flow analysis, data and trend analysis.
Dwight McInvaill is the Director of the Georgetown County Library which serves about 60,000 citizens in sunny, rural coastal South Carolina. In his 30+ years of library experience he's been responsible for numerous grants totaling over 1.3 million for improving library services, including the Georgetown County Digital Library and children, teen and adult illiteracy. He was appointed to the steering committee of the Digital Public Library of America (Harvard University's Berkman Center of Internet & Society) in 2010, representing small libraries. He also writes a blog for Techsoup for Libraries.
Debby Anderson Meyer has a Bachelor of Science in education and a Masters in Public Affairs from UW-Madison. She joined the Wisconsin Council of the Blind & Visually Impaired in January 2011 as the Fund Development Director. She spent the last eight years doing nonprofit outreach and development and previous to that worked in state government (Departments of Administration and Justice) as a grant administrator and policy analyst. She brings a passion for connecting people and funders to vital, necessary nonprofit work.
Susan Gibson Mikos is a historic preservation consultant who lives in Shorewood, Wisconsin. She is the author of "Poles in Wisconsin," part of the People of Wisconsin series. Her other books include "Kresy," a volume of photographs taken by geographer Louise Arner Boyd in the eastern borderlands of Poland in 1934. Over the past thirty years, Mikos has been active in several Polish cultural organizations, including the Polish Center of Wisconsin, and Polanki, the Polish Women's Cultural Club of Milwaukee.
Dr. Dipesh Navsaria is the medical director of Reach Out and Read Wisconsin, a child literacy program of the Children's Health Alliance of Wisconsin. He is on the faculty of the University of Wisconsin School of Medicine and Public Health and is a specialist in pediatric and adolescent medicine. Dr. Navsaria is committed to developing a passion for reading in every child he meets. In addition to his medical degree, he also holds a masters degree in Library and Information Sciences.
John Pederson, aka Mayor of the Internet, is an Educational Technology Liaison with WiscNet in Madison, Wisconsin. WiscNet is a collaboration of higher education institutions, public entities across the state, including higher education, technical colleges, K12 schools, libraries, municipalities and hospitals. His role as liaison is being a translator between the world of networking and that of teaching and learning.
Emily Photenhauer is the Outreach Specialist for Wisconsin Heritage Online, the collaborative statewide digitization program. In that role she digitizes historic items from around the state and posts them online which she finds is the best way to share the findings.
Dr. Jean Preer is Professor Emerita in the Indiana University School of Library and Information Science in Indianapolis. She is the author of "Library Ethics," published by Libraries Unlimited in 2008 and honored as the 2009 winner of the Greenwood Publishing Group Award for Best Book in Library Literature.
Dorothea Salo is an independent consultant and library technologist. An adjunct lecturer for the School of Library and Information Studies at the University of Wisconsin-Madison, she is a frequent speaker on all things library and tech at conferences around the world.
Pat Schmatz grew up in rural Wisconsin, where her passions were reading, basketball, and the woods. She lived in Michigan, California, and Minnesota before landing back in central Wisconsin. When she's not traveling, Pat does administrative work for the Legal Aid Society of Minneapolis, helping those dedicated and talented public interest lawyers provide free civil legal services for low-income folks and people with disabilities. In the summer, she is on the staff of the Michigan Women's Music Festival. In between, when she's not running or skiing in the woods or swimming in the lake, she studies Spanish and Japanese, watches the Green Bay Packers and Buffy the Vampire Slayer, and reads and rereads and writes and rewrites. She has won numerous awards for her book, "Bluefish" and is currently at work on a new novel called, for now, "Lizard Radio."
Ruth Sias has worked as a Children's Librarian for 20+ years and been involved with the Reach Out and Read program for the last 5 years. Currently, she coordinates Reach Out and Read volunteers at the UW Health clinics and American Family Children's Hospital as well as reading in the clinic waiting room.
Dave Skogen is the Chairman of the Board of Festival Foods, a 16 store regional grocery store chain, and has been in the grocery business for over 50 years, but if you asked him, he would tell you that he's actually in the people business. It just so happens they sell groceries. His leadership style is influenced by the book "The Servant" by Jim Hunter.
Raquelle Solon, Associate Director of Prepare Training for CPI, has a diverse leadership background including over 10 years of experience problem-solving violence prevention solutions. CPI is an international organization based in Milwaukee, Wisconsin. In her role with CPI, she has worked directly with hundreds of organizations to determine the most cost-effective means of implementing training and crisis prevention.
Mark Speltz is a senior historian at American Girl. He previously worked as an independent researcher on exhibits for museums, including the Ellis Island Immigration Museum, and has authored several articles for the Wisconsin Magazine of History.
Tom Thibodeau is a member of the Viterbo University faculty in the Department of Religious Studies and Philosophy and a member of the graduate faculty. He has been appointed Distinguished Professor of Servant Leadership, the first person at Viterbo to hold that post. A popular teacher and presenter, Thibodeau is the recipient of Viterbo's Teacher of the Year award and is the director of Viterbo's Master of Arts in Servant Leadership program. In addition, he has served on a number of community boards and committees and is a co-founder and active community member at Place of Grace, a local Catholic Worker House.
Barbara Vey is a media consultant and a contributing editor and blogger for Publisher's Weekly. She is the co-author of "Book Marketing, Book Trailers and Author Etiquette in a Nutshell" with Sheila Clover English. She lives in Milwaukee, Wisconsin.
Jennifer Wilson has worked as a Big Band disc jockey, a high-school English teacher, detasseler of corn, and a reporter and editor for newspapers and magazines. She's written for Esquire, National Geographic Traveler, No Depression, Traditional Home, Gourmet and many other national magazines and newspapers. Running Away to Home (St. Martin's Press) is about the time she forced her family to sell their stuff and return to live in the ancient Croatian mountain village of her ancestors. A good time was had by all. Sort of. Running Away to Home has been chosen as Best Nonfiction Book of 2011 by the American Society of Journalists and Authors. She lives and writes in Iowa.